Forthcoming 3-day Textile Screen-Printing Course
September 22, 2015
There is a 3-day course running from Saturday 17th – Monday 19th October 2015.
Screen-print your own designs onto fabric and achieve professional results. Joanna's courses and workshops continue to be popular with both experienced artists and makers who want some concentrated time to develop their work, as well as those new to print.
This 3-day version of the course is designed for those unable to find time for 5-days, whilst still enabling a satisfying amount of work to be produced. The main differences between the two courses are that participants provide artwork in advance so silk-screens are ready on arrival, and dyeing is omitted from the schedule, thus still allowing 3 full days of printing. On booking, participants are given a guide to assist them in preparing imagery for transfer to silk-screen. Small groups of 3 participants allow plenty of individual attention and work space, as Joanna guides you expertly through each stage, creating a supportive and friendly atmosphere. Courses run throughout the year.
Please contact Joanna for further information, to go on the mailing list or to book a place.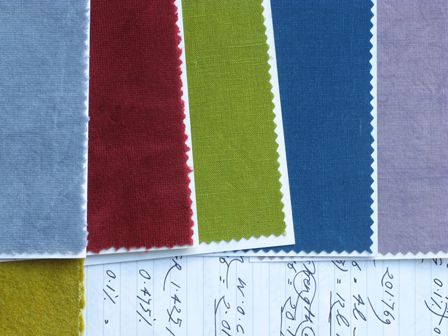 ← Forthcoming 5-day Textile Screen-Printing Courses
One place still available on next 5-day course →