COURSES
For dates of forthcoming courses and workshops, please also see the News page. Courses are run on an on-demand basis throughout the year, so if you are interested and a date has not yet been arranged, please contact Joanna to discuss mutually agreeable dates.
Forthcoming courses/workshops with new course structure in 2020
Dates for the year ahead currently on hold due to Coronavirus situation.
Please get in touch if you would like to participate in the coming months or further in the future. See below for more details about course content.
Courses takes place in Joanna's studio, a large, warm(!) and well-equipped space within the 'WASPS' complex situated in Dennistoun, just east of Glasgow City Centre.
They are suitable for both beginners and those who have some screen-printing knowledge, as well as for those with a wider experience who want some concentrated time to develop their work. Participants are encouraged to think creatively and be experimental in their approach. This is perhaps the only course of its type in the country where screens are processed photographically, thereby ensuring a very high standard of work. The atmosphere is friendly and supportive, as well as busy and productive. Courses take a maximum of three people to ensure each participant receives individual attention and facilities do not become over-crowded. Joanna can also tailor one-to-one courses to suit anyone with particular requirements or interests; please contact her to discuss other possibilities.
Five-day courses usually run from a Monday through to a Friday, but can also be from a Wednesday to a Sunday, if participants prefer to incorporate a weekend.
Five-day courses
This intensive course is designed to cover the key processes involved in producing your own design on natural fabrics through dyeing and screen-printing with reactive dyes and discharge; devoré and flocking can also be included if requested in advance.
The course structure has changed for 2020! I will be working with participants in advance of the course, guiding and supporting them in development and preparation of their imagery and design ideas. Screens will then be prepared ahead, creating an extra printing day and providing greater productivity. All supporting documentation will still be provided.
Before and during the course you will learn about and explore the following:
developing a design and translating onto 'Kodatrace' (a brand of drafting film) and/or acetate film through Photoshop
transferring the design onto a screen photographically
dyeing fabric
mixing printing inks and 'discharge' paste (discharge enables colour to be removed to varying degrees in order to create new colours and textures as well as 'negative' areas)
recording recipes and samples
printing a range of samples using screens in conjunction with stencils and hand-painting and subsequently producing a final piece if desired
fixing and washing-out prints
The cost of the five-day course in 2020 will be £660, reflecting the additional time. Please use the contact form to discuss dates, request full details and booking forms. Currently courses run throughout the year and on an on-demand basis.
Weekend Workshops
The weekend workshop is a more concise version of the five-day course and as such is intended to be an introduction to screen-printing on textiles. You will print your own designs on a range of fabrics of your choosing, experimenting with building up layers through the use of reactive and discharge print pastes. Imagery is transferred photographically to silk-screens in advance, so it is necessary to send artwork prior to the course, in order that screens are ready and waiting for participants. Advice is given on approaches to developing and preparing artwork as with the 5-day version..
The cost of the weekend workshop is £510. Please use the contact form to discuss dates, request full details and booking forms. Currently courses run throughout the year and on an on-demand basis.
NEW 3-day Workshops
The format of the 3-day workshop is the same as the weekend version, but with an extra printing day, allowing for further exploration and development.
The cost of the 3-day workshop is £560.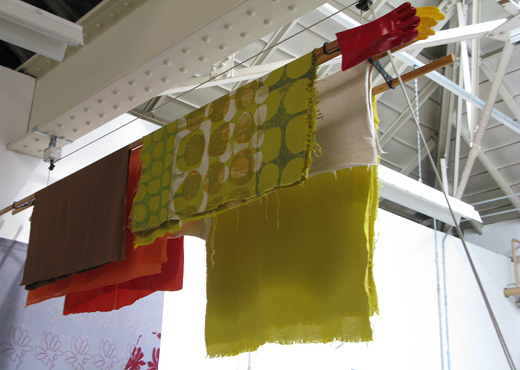 What participants say about the courses:
www.lintpress.com/blog/ -Cassie Mayo, Edinburgh
"Course administration and details on course content are excellent and very professional.  The assistance and support before, during and after the workshop is also excellent, could not be faulted. 
I felt the assistance of someone helping with washing screens, steaming and washing fabrics etc. was a real luxury as it gave much flow to the workshop.  Studio facilities are excellent. 
The teaching of skills and the information shared is very good indeed. The standard of dyeing and printing techniques are very professional and of a very high standard compared with the evening class I just completed at my local Art School. Overall an excellent course and would highly recommend to others. 
I came away having met my objectives and confident to use newly learned skills in my own work."
–Mary Malcolm, Aberdeen
"I thought your course was very well thought-out in terms of pace, organization & structure and that you were very generous in the amount of 'out of hours' work you put into exposing screens, washing fabrics etc. to ensure we all managed to produce a gratifyingly high standard of work by the end of a week. I learnt a great deal from you & thoroughly enjoyed myself in the process! Thank you for all your hard work and encouragement."
–Susan Robinson, MCSD, MA(RCA), Belfast
"I just want to thank you so much for a lovely and interesting week in August. It was so nice to meet you Joanna! I certainly learned a lot!"
–Birgitta Wendel, Lund, Sweden
"I just wanted to say another very BIG thank you for a wonderful few days working with you. I enjoyed it so much, and got so much out of it.  Thank you for your generosity of spirit as well as time!"
–Lindsey Tyson, Textile Artist, Scarborough
"Thank you for a wonderfully creative weekend and for taking such good care of us with wonderful lunches and cake"
–Alison Cutforth, Edinburgh
"Thank you so much for all of your hard work and support during last week. It was exhausting, but so stimulating. It has certainly left me hungry for more and I do now intend to see how I can continue, either in my own studio or elsewhere".
–Janet Dickson, Morpeth, Northumberland
EDUCATION
Joanna is available for talks and lecturing.  She has been a visiting lecturer at a number of colleges at degree level; she also gives talks about her practice to a wide variety of clients including guilds, community groups, arts organisations, colleges and universities.  She is happy to travel outside Scotland. Please contact her to discuss your requirements.